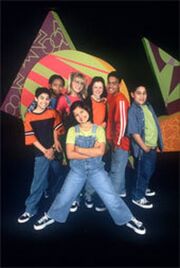 ZOOM's 2nd season aired from January 4, 2000 until April 22, 2000.
Original Broadcast
Edit
2002 Rebroadcast
Edit
Last season to use the website of www.pbs.org.
Only season to use 3 funding intros. The first didn't include The Arthur Vining Davis Foundation logo, the 2nd one did include it and the 3rd went for 15 seconds.
First season to use the 1999 PBS Kids Logo. First introduced in the funding intro but will be put to permanent use starting at season 3.
First season for the ZOOMers to say "thanks" after the funding intro was finished.
First season to add additional words to the show's intro instead of singing out "come on and ZOOM" 4 times for the 2nd line. The additional words used were "you call the tune" and "we're starting soon".