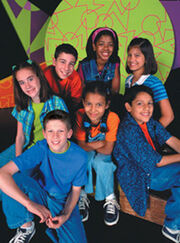 ZOOM's 4th season aired from January 25, 2002 until June 7, 2002.
First season where there was no voiceover for the WGBH Boston logo.
First season to produce with 20 episodes.
All the ZOOMers' names were heard at the start of the intro before they introduce themselves.
In the end credit sequence, the word "ZOOMways" gets changed to "media". The whole 2nd half of the sentence is "This means that we can share your ideas with other ZOOMers on TV, the web, in print materials and in other media".
Ad blocker interference detected!
Wikia is a free-to-use site that makes money from advertising. We have a modified experience for viewers using ad blockers

Wikia is not accessible if you've made further modifications. Remove the custom ad blocker rule(s) and the page will load as expected.