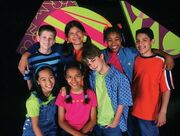 ZOOM's 5th season aired from March 31, 2003 until July 18, 2003.
Last season for the ZOOMers' names to appear in the end credits.
Last season for the extended theme song.
This is also Caroline's final year as a ZOOMer.
This is the only season Mike Don't Have His Glasses.
Only season where the ZOOMers wear long sleeve orange and black baseball shirts with the show's logo on the front. This was used for the intro, the outro, and the ZOOM into Action segment.
The Weezie Foundation and The Tucker Gosnell Family Foundation sign on as sponsors for only season 5. The Weezie Foundation returns in season 7.
Ad blocker interference detected!
Wikia is a free-to-use site that makes money from advertising. We have a modified experience for viewers using ad blockers

Wikia is not accessible if you've made further modifications. Remove the custom ad blocker rule(s) and the page will load as expected.